Owner and designer Barrie Spang spills the beans on the new coffee bar design
As part of its latest addition, Hinkley wanted to add a little pep into its office. So, we got together with design firm Sapphire Pear to visualize a new meeting area that could eliminate dead space by incorporating style, function and intimacy. And as a result… the coffee bar was born.
We were lucky to chat with Barrie Spang, Owner and Designer, to learn more about her firm, her design inspiration and the project itself! Grab yourself a cup of coffee and dive into the interview.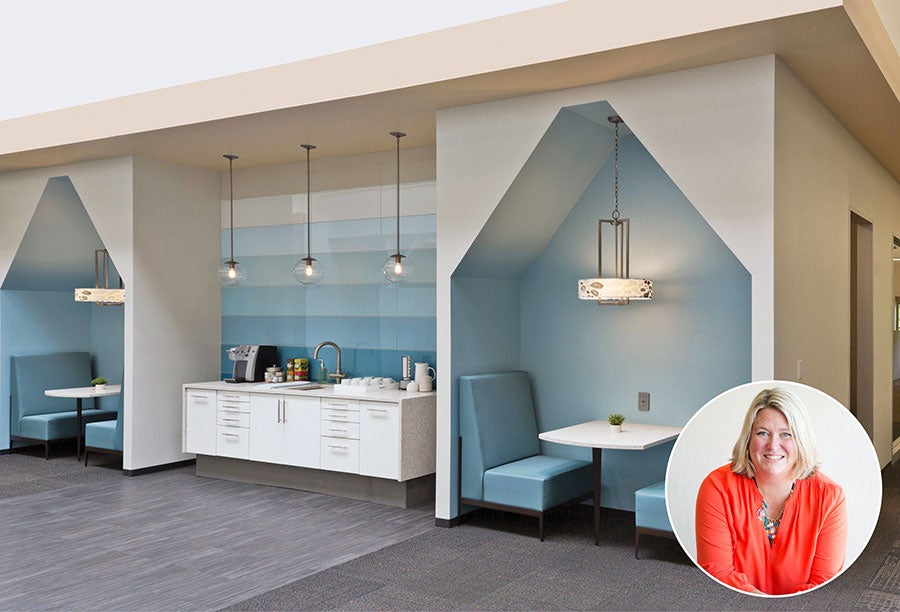 ABOVE: Hampton Chandelier + Warby pendant | BOTTOM RIGHT: Barrie Spang, Sapphire Pear
Hinkley is very familiar with Sapphire Pear as we've worked on many projects together. For those who aren't familiar, can you tell us a little bit about your team and your design firm in general?
We have an amazing team of four at Sapphire Pear and each of us play an integral part of the project process for our clients. We like to use color in our design, and it is important to us that our client's homes or spaces reflect them or their company. We do like to have fun in the process and love to throw a good party.
What are the most important aspects to consider when designing a commercial space?
Scale and color are both important parts of designing for commercial spaces. Materials and colors that may work residentially often need to be adjusted for commercial spaces. Larger patterns and bright colors work better commercially. Some companies play it a little safe with their projects, which is why I love doing projects with Hinkley. With Hinkley, I can execute a bolder design aesthetic to reflect a very fashion forward brand.
What was the biggest challenge in designing the coffee bar for Hinkley headquarters?
I had a vision of how I wanted the backwall to look, but I was not finding the materials in a stock format. Then the idea grew to having custom glass panels made which allowed for fewer joint lines and an overall better result.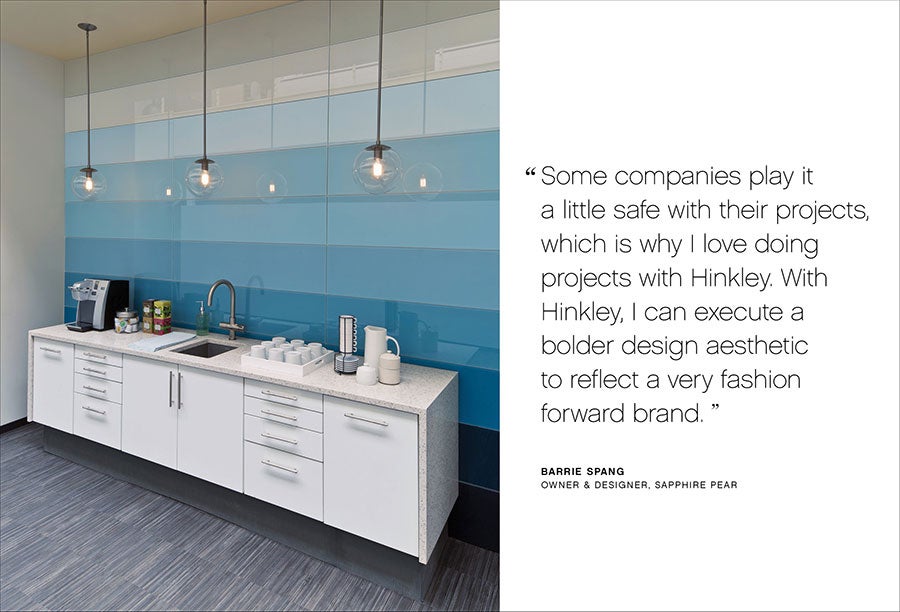 What is your process when outsourcing partners for projects? Do you continuously return to anyone?
It is comfortable to work with the same people over and over because you know what to expect from them and you get into a groove, but I also love to reach out to new vendors. Really whatever is best for the project and our clients.
We love your Instagram feed! We noticed lighting plays an integral role in your designs. How do you go about choosing the right fixtures for a space?
I think of lighting as the finishing touch, or jewelry if you will, of a project, so it must be the perfect complement to what is happening in the space. I know all the "rules of lighting", but I don't always follow them.
How do you get inspired, or where do you pull your inspiration from?
I know it is cliché, but I really do find inspiration everywhere. Travel, out for a walk, dinner at a new restaurant, a trip to the Cleveland Museum of Art. Truly anywhere.
Do you have a favorite room of the home to design?
Other than children's rooms, my favorites are probably bathrooms, specifically Powder Rooms. I love to push my clients out of their comfort zone a bit with an unusual wallpaper, color, tile or light fixture. Or, sometimes all of those in one space.
What's next for Sapphire Pear? Any upcoming work projects you can share with us?
We are currently doing an exciting new build in Charleston, South Carolina, a renovation in Naples, Florida along with our exciting projects right here in Northeast Ohio.