Update Your Space With The Season's Latest Styles
Nothing prepares your home for the sweet Summer temps quite like a remodel. The weather finally warms up, allowing you to open the windows and welcome in the fresh air and a new season for inspiration. But updating your home – or parts of your home – doesn't necessarily have to be a stressful undertaking. Even the simplest updates can make dramatic effects in or outside your personal oasis.
One of our favorite parts of being in the home decor industry is seeing how designers can envision and transform a space with just a touch of creativity and personalization. So in light of all the incredible renovations we've seen over the year, we decided to touch base with a few designers who have gone above and beyond for their projects.



Lisa Furtado Interiors is a full-service residential design firm specializing in high-end, family-focused interior design and renovation. Using quality materials and finishes, we create innovative solutions that are fuss-free and durable but don't compromise on sophistication and style. Traditionally rooted with a modern edge, we strive to balance timeless beauty with fresh, unexpected elements that reflect our clients' personalities and the way they live. With thoughtful planning, we create beautifully curated spaces that stand up to life and feel like home.

This beautiful home is located in Woodside, CA, which is a small, unincorporated town in the Bay Area known for its country roads, large tree-filled lots and sprawling horse properties. Our clients bought this Mid-Century rancher with the goal of bringing a fresh, modern vibe into the space while honoring its history and geography.

Using the Fulton chandelier, we transformed this living area into a chic, contemporary space guaranteed to host all the best future soirees.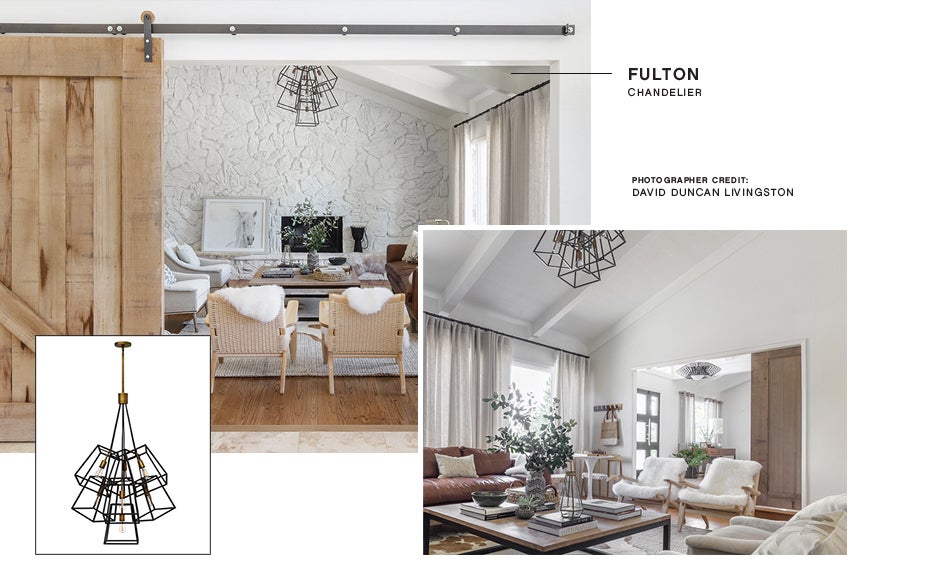 Sandra Funk is the CEO and Principal Designer of House of Funk, an East Coast design firm working wherever great clients need them. Their mission is to improve lives by infusing our work with a timeless quality, a focus on wellness and natural elements.

My powder room - off of my mudroom - was a complete afterthought when we bought the house. Between its low-end fixtures and lack of architectural details and style – its purpose was simply for functionality. I love a little drama in a powder room, so I painted it in deep charcoal to create a rich backdrop for art and accessories and conceal the lackluster architecture. The beauty of a room this small is that updating a few fixtures goes a very long way; a petite pedestal sink, classic commode and the gorgeous Emery flush mount by Hinkley were all it took to set an entirely different tone.
I then filled the space with an oversized traditional mirror and a great collection of art and polished up some dramatic heirloom candelabras. These simple updates created a dramatic effect, one that makes me smile each and every time I pop into this jewel box of a room. It's over-the-top fancy in an unexpected part of the home.

The Emery flush mount, with the perfect combination of black and brass for the space, allowed for a beautiful glow, and its transitional-meets-traditional style was exactly what this room needed.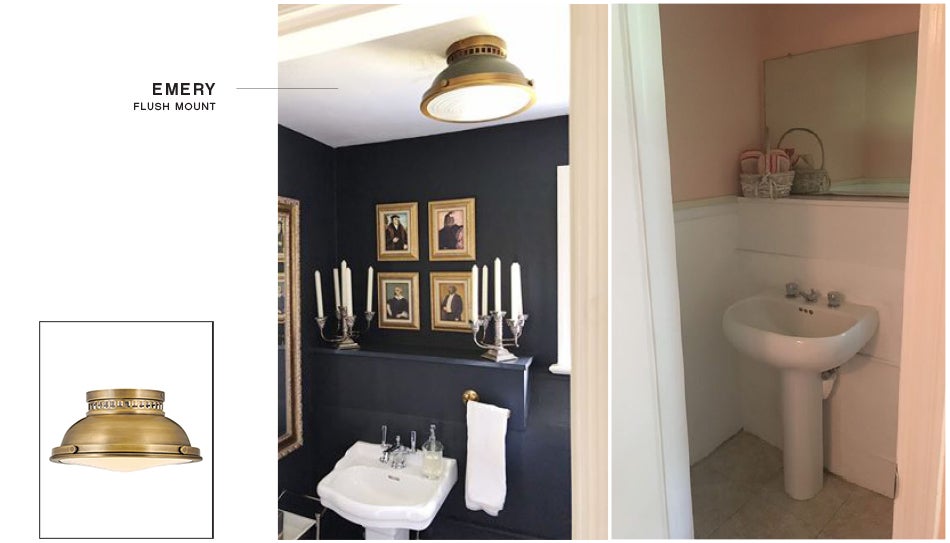 SH interiors specializes in creating spaces designed with our clients' tastes in mind. We truly enjoy the collaboration process and our end goal is to give our clients a unique and beautiful space that is designed specifically for them and their lifestyle.
We offer a full range of architectural interior design services, design-build and exterior hard-scape services in the Los Angeles area. Whether you require a complete house remodel or something as simple as a few new furniture pieces and a fresh coat of paint, Stephanie Hatten can translate your vision of a harmonious space into a well-designed reality that can accommodate virtually any budget.

This remodel was inspired by old European farmhouses. The client had contrasting tastes –all things worn and weathered versus streamlined and uncluttered. Using a mixture of old world and industrial styles – wood counters, reclaimed wood shelves and handmade encaustic tile – we contrasted that with modern elements.
To open the space up, we removed a wall dividing the dining room and kitchen, as well as an exterior door in the kitchen. We added new French doors and updated the very outdated light fixtures with the Somerset pendants both for functionality and as a way to add those personal touches the client envisioned.

One of the most important aspects of a room, lighting is both functional and expressive. The Somerset pendants were the perfect finishing touch, and a great complement to the combination of old-world details and sleek industrial style.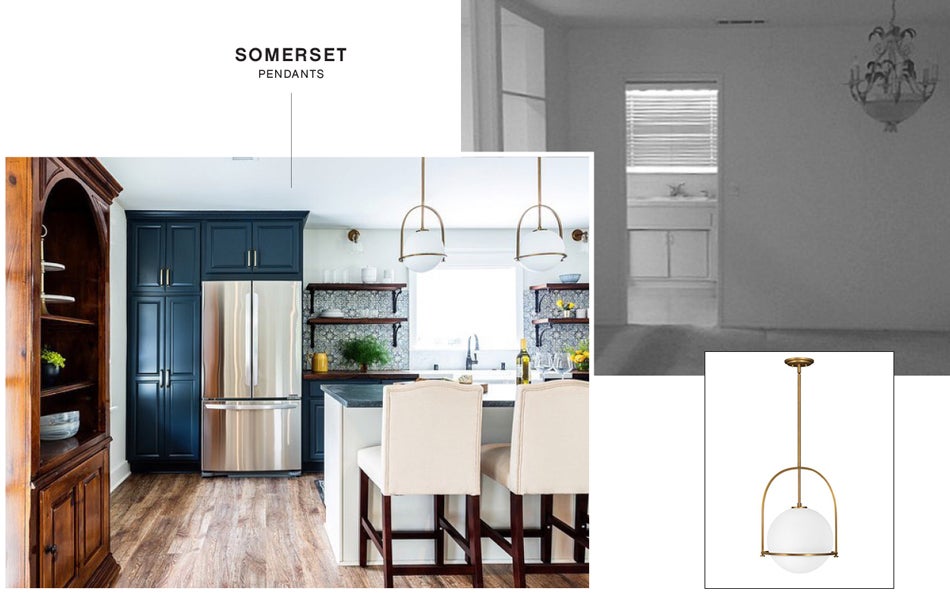 For more ideas to inspire your own updates, explore all our interior styles here.