Gift-giving is one of the best parts of the holidays. There's no better feeling than having someone that truly knows you and your favorite things. When it comes to spoiling everyone on your list, we want to set you up for some major "you shouldn't have!" moments from the relatives you love the most. Our splurge-worthy gift guide is destined to bring year-round happiness, and win you major points for being the ultimate gift giver.
After all, if the people on your list aren't Instagramming your gifts, did they really happen? Let's get shopping!
THE TRENDY AUNT WHO LIVES IN THE CITY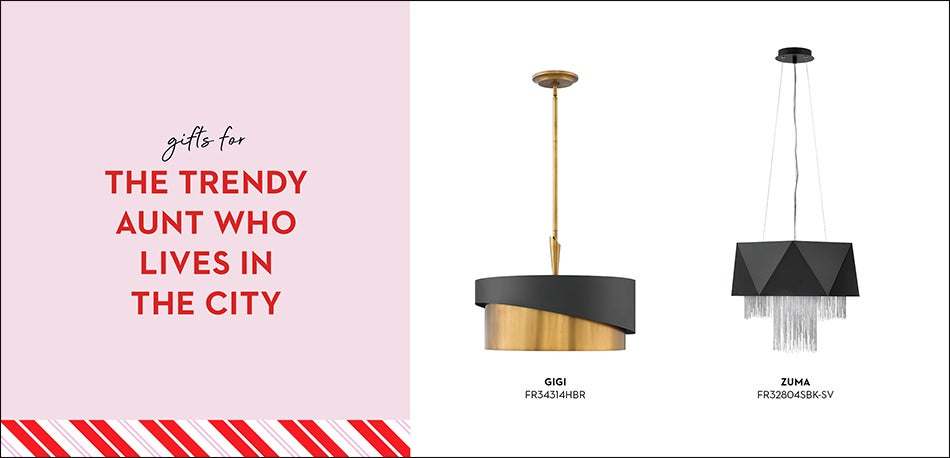 Visiting her is always a great time, but shopping for the relative who looks like they have it all can be daunting. Lucky for you, we're ready to dazzle her with trend-setting styles that have luxury top of mind. Gigi pendants and Zuma chandeliers mix rich finishes with avant-garde silhouettes that will add a dose of glamour to her urban abode.
THE BOHO-CHIC SISTER WHO JUST MOVED INTO HER FIRST HOME
For the sister whose eye for design is unmatched, wow her with a Skye or Ludlow chandelier that she'll have forever. These insanely popular styles are uniquely inspired by organic shapes interpreted with modern flair. Can't say we're surprised, though – these stunners are part of our Lisa McDennon collection, who hails from Laguna Beach, California. Lisa's sophisticated eye for architecture and luxe materials infuse every one of her designs.
THE GRANDPA WHO RETIRED DOWN SOUTH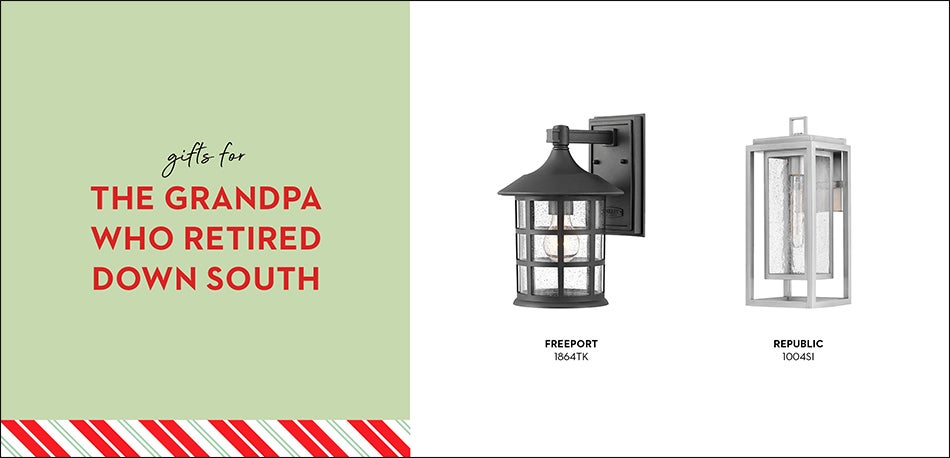 Like many retirees, Grandpa chased after the heat, which means he spends plenty of time outdoors. Brighten his holiday with a pair of outdoor lanterns. A few of our favorite eye-catchers include Freeport and Republic. Each brings a coastal, timeless appeal built for maximum durability. Low maintenance, long-lasting and easy to install, you'll be gifting Grandpa both safety and style.
THE TEENAGER WHO LOVES TO LOOK GLAM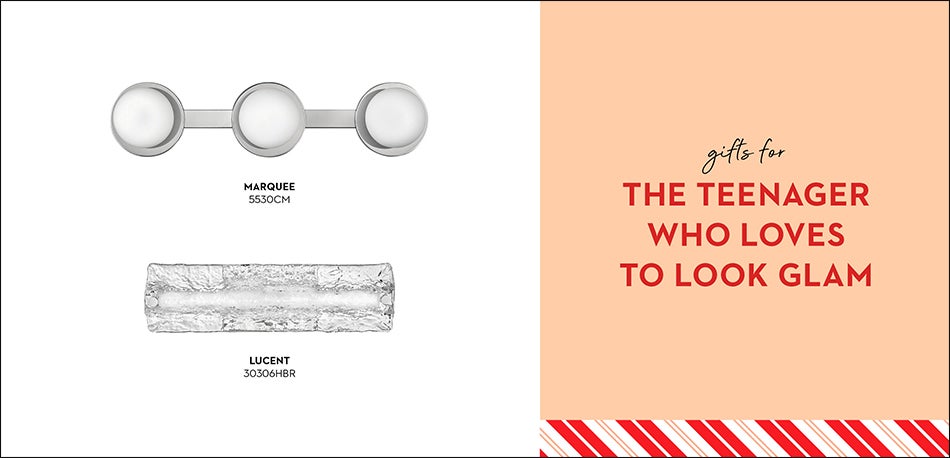 We all remember the hours spent in front of the mirror making sure we looked as good as possible. Now we just want to maximize our time in sweatpants. But for the teens in your life who need the perfect lighting to tend to every detail, Marquee and Lucent deliver the goods. Simple, stunning and energy-efficient, these LED bath lights add the right kind of drama to their lives, and will accentuate any mirror or vanity space in your home long after they leave the nest.
THE DAD WHOSE LAWN IS HIS PRIDE AND JOY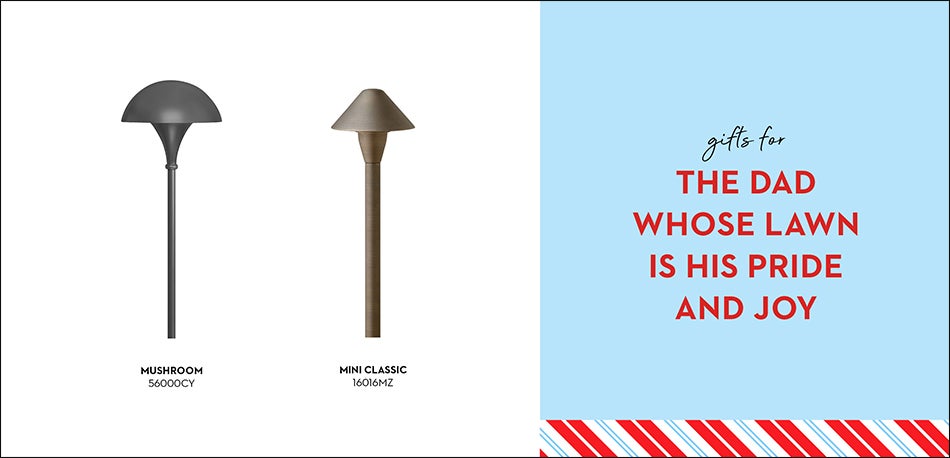 Nothing puts a smile on dad's face quite like a freshly mowed, lush green lawn. But did you know outdoor lighting solutions can substantially increase the overall appearance and safety of a home? Plus increase property value, big time? Now you've got his attention. An easy DIY project, our Mushroom and Mini Classic path lights from Hinkley landscape lighting are a stylish gift solution that gives your favorite guy the best yard on the block.
THE CRAFTY KID WHO'S ALWAYS BUILDING
Messes aside, we adore the endless curiosity and imagination kids have. From art projects to science experiments, they love to spread out, dig in and create. That's where practical task lighting comes in, and why not have it wrapped in a stylish package so it's a win/win? Enter Arti. Inspired by a traditional articulating task light, Arti is a fully adjustable sconce updated with well-designed details. On top of that, it can easily move along with your roaming brood, so you can migrate Arti from one craft or play space to the next.
THE MINIMALIST NEPHEW WHO BELIEVES LESS IS MORE
Ah, the guy who only needs a small duffel for a week-long trip home. We don't know how he does it, and we definitely admire it. But even the minimalist can use thoughtfully designed lighting. Meet Keating and Academy, two urban-inspired pendants with a carefully executed modern edge. Slim profiles and a timeless appearance mean they fit in anywhere, and will mean everything to someone who appreciates both form and function.
THE COUSIN WHO THRIVES ON OUTDOOR ENTERTAINING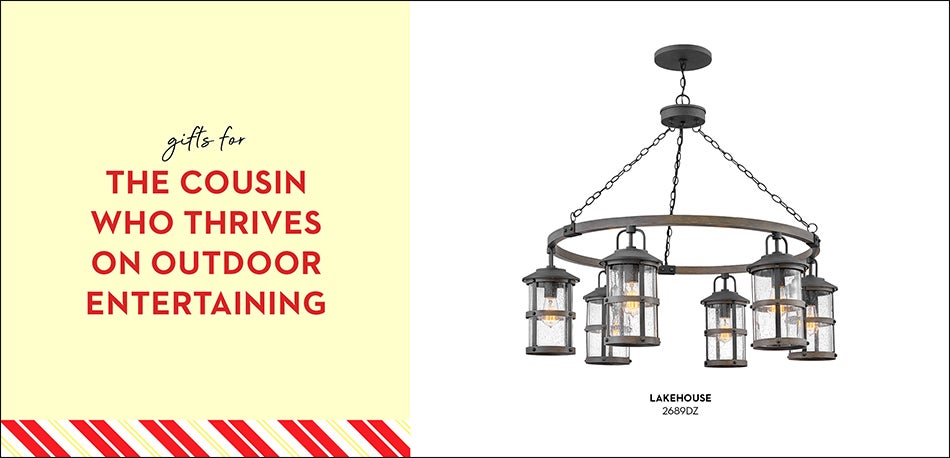 Where's the party? Probably at the same house you find yourself every weekend. But even the most enjoyable outdoor spaces can benefit from a mix of amazing outdoor lighting, like stylish outdoor chandeliers, pendants, lanterns or pier mounts. Outdoor designs from our Open Air collection is the gift that keeps on giving…we'll toast to that!
THE UNCLE WHO CAN'T GET ENOUGH OF HIS MAN CAVE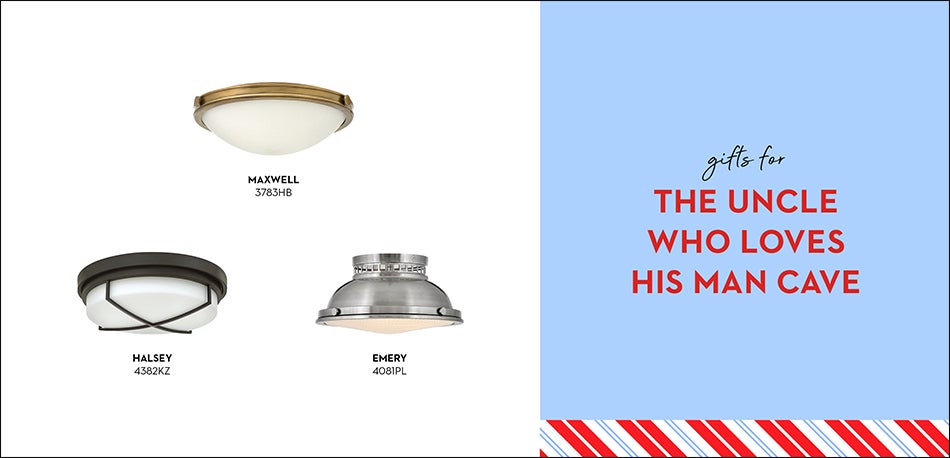 Lighting is essential in all rooms, but not everyone wants to make a statement. Especially the uncle who spends his spare time kicking back, or watching the game with his buddies. For the man cave, easy-to-install flush mounts like Maxwell, Emery or Halsey offer the perfect middle ground: subtle, masculine and understated fixtures that get the job done.
THE MOM WHO COOKS THE BEST HOLIDAY MEALS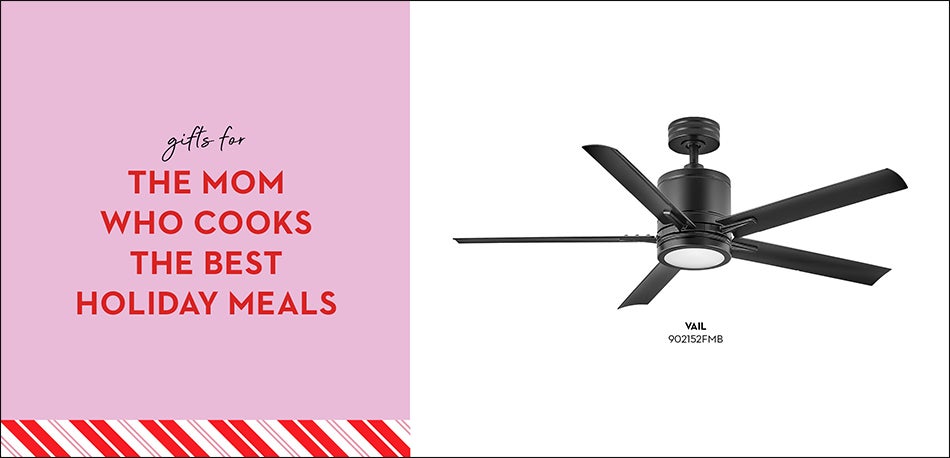 Mom's home cooked meals are the real MVP. Show her your appreciation for that food coma you fall into every time she whips up your favorite dishes. Hinkley offers ceiling fans that are the perfect solutions to cooling down the kitchen, which is always one of the busiest areas of a home, regardless of the season. Our space-friendly Vail fan features a sleek profile and whisper-quiet motor, and is guaranteed to keep Mom cool and comfortable.
THE GRANDMA WHO HAS THAT FAVORITE CHAIR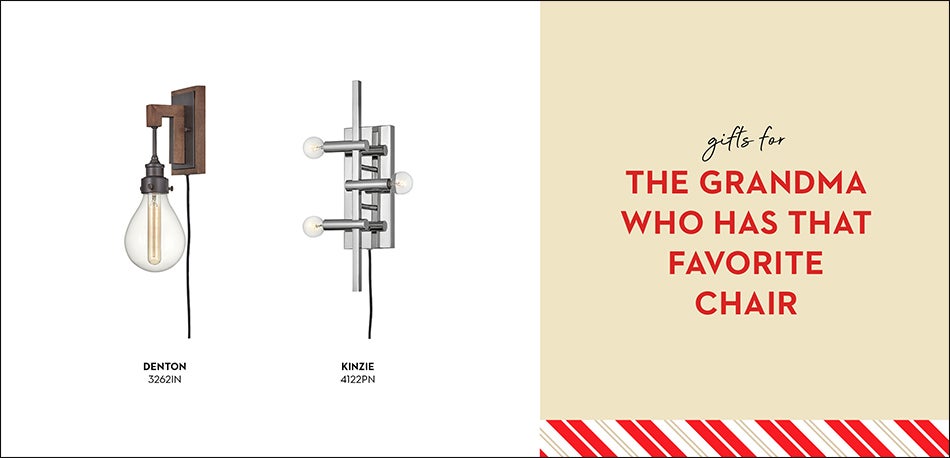 After spending holidays with the kids, there's nothing more Grandma wants to do than kick her feet up. Help her relax in style with Denton or Kinzie pin-up sconces that will make her favorite spot even cozier. Gifting her with additional illumination for aging eyes and an easy on/off touch sensor give you peace of mind too.
AND LAST BUT NOT LEAST – YOU!
The holidays are not only a time to think about others – you have to remember to #treatyourself too. What do you want to do in the new year to improve the enjoyment, style and functionality of your home? Whether you are updating your kitchen or prepping your patio, adding some panache to your powder room or making the most of your mudroom, lighting is a quick and easy way to entirely transform any space and should be top of mind when envisioning your end goal. Check out our Lighting Made Simple guide here for the best tips and tools to get it right. Cheers to a year of stylish living!
Cover image: @nicholelynnedesign; @jenanderson_photography